Mary Seacole, a Jamaican-born healer and hotelier of mixed African and Scottish background, was unusually mobile for a women of any class or race and still more so for a woman of mixed-race background. She travelled to England, Central America, and the Continent, eventually settling in England where she published her travel memoir, The Wonderful Adventures of Mrs. Seacole in Many Lands, in 1857.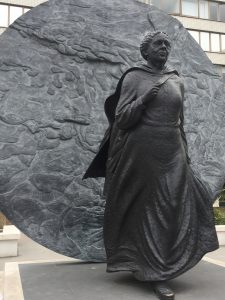 Mary Seacole statue, St Thomas's Hospital, London
Living in Panama during the height of Gold Rush fever, Seacole providing food, shelter, and skilled medical care to travellers from 1850 to 1853. She then defied convention–and Florence Nightingale–by setting up a "British hotel" near the front lines of the Crimean War (1853-56), where she fed and cared for soldiers. She received the Jamaican Order of Merit in 1991 (110 years posthumously) and was voted the Greatest Black Briton in  2004.