Tillie Olsen, in full Tillie Lerner Goldfarb Olsen, née Tillie Lerner, (born January 14, 1912, Omaha, Nebraska, U.S.—died January 1, 2007, Oakland, California), American writer and social activist known for her powerful fiction about the inner lives of the working poor, women, and minorities. Her interest in long-neglected women authors inspired the development of academic programs in women's studies, especially at the university level in the United States.
During her lifetime Olsen gained considerable fame, particularly among scholars. The American Academy of Arts and Letters cited Olsen in 1975 for creating a freshly poetic form of fiction. Although she never finished high school, she held nine honorary doctorates. She won grants from the Ford (1959–61) and Guggenheim (1975) foundations, the National Endowment for the Arts (1967), and the National Endowment for the Humanities (1983), as well as countless residencies at artists' colonies.
Though deeply influenced by her parents' socialist values, Tillie Lerner began to live independently of them. At the beginning of 1930 she joined the Young Communist League.
A writing fellowship at Stanford University in 1955–56 at last made her dream possible. She published three largely autobiographical stories and a novella that all distill big issues into seemingly simple domestic tales. The first story, "I Stand Here Ironing," which examines a mother's guilt, was reprinted in Best American Short Stories (1957).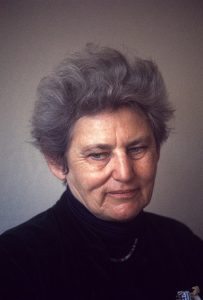 Reid, Panthea. "Tillie Olsen." Encyclopædia Britannica, Encyclopædia Britannica, Inc., 22 May 2018, www.britannica.com/biography/Tillie-Olsen. May 04, 2018