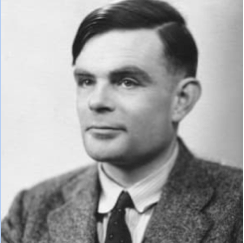 "I believe that at the end of the century the use of words and general educated opinion will have altered so much that one will be able to speak of machines thinking without expecting to be contradicted.
—Alan Turing
Alan Turing, noted mathematician, was born in London, England in 1912 and died tragically in 1954 from cyanide poisoning. Many consider Turing the founder of the field of computer science for his seminal work in crytography and his theory on the limits of computation. He is certainly the father of the computer science subfield of Artifical Intelligence and the controversial notion of "thinking" machines. Today we see some of the fruits of his original ideas in encrypted online shopping, voice recognition systems such as Siri and Alexa, NASA's robotics vision systems, and learning algorithms that predict and classify trends for Walmart and Amazon.
Among Turing's notable achievements are his
1936, Universal Turing Machine – a theoretical model of modern day computing sytems,
1936 paper, "On Computable Numbers", which proved that a universal algorithmic proof of truth in mathematics cannot exist. That is, "a function on the natural numbers is computable by a human being following an algorithm, ignoring resource limitations, if and only if it is computable by a Turingmachine[1]",
WWII cryptography work at Blechley Park, the GCCS wartime station, on decrypting the German Enigma codes,
1950, Turing Test Experiment – "A computer would deserve to be called intelligent if it could deceive a human into believing that it was human." —Alan Turing
In 1952 Turing was charged with gross indecency for a homosexual relationship with Arnold Murray. He choose chemical castration and temporary probation over imprisonment for the charges. Turing's security clearances at GCCS were revoked and he was banned from cryptanalysis research due to the charges. Two years later, a postmortem determined that Turing died from cyanide poisoning. It is still unknown whether his death was a suicide or an accidental poisoning.
Posthumously, Turing was named by Time magazine as one of the 100 most important people of the 20th century and a BBC nationwide poll ranked him 21st of the 100 most important Britons. In 2013, Queen Elizabeth II granted Turing a royal pardon for his crimes and announced "Turing's Law" to pardon those convicted of homosexuality in England when it was considered a crime.
[1] On computable numbers, with an application to the Entscheidungsproblem' from Proceedings of the London Mathematical Society, (Ser. 2, Vol. 42, 1937);
http://www.alanturing.net/turing_archive/pages/reference articles/Bio of AlanTuring.html
Alan Turing: The Enigma, Andrew Hodges, Princeton University Press (November 10, 2014)