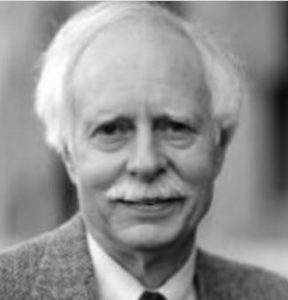 Roger Shepard
---
Roger Shepard is a Cognitive Psychologist who is considered the father of research on spatial relations. His famous work on mental rotation was, in part, responsible for transforming psychology from a discipline that studied only observable behavior to one that studied behavior and mental processes. Spending most of his career as a professor at Stanford with brief stints at Harvard and Bell Labs, Shepard's work in perception and cognition included the creation of stunning auditory and visual illusions that helped elucidate the underlying mechanisms of perceptual and cognitive processes. His "Universal Law of Generalization" was instrumental in the development of evolutionary theories of perception and action. 
Shepard was born in 1929 in Palo Alto CA. He completed his Ph. D. at Yale in 1955 under the direction of Social Psychologist Carl Hoveland. His work on mental rotation provided behavioral empirical evidence for visual imagery that was later confirmed by neural imaging. Shepard showed that when comparing two objects viewed from different rotational perspectives, the time to tell whether the objects were the same or different was proportional to the degrees of rotation by which the objects differed (as if the viewers were mentally rotating the objects in their mind to compare them).
Shepard's theoretical perspective posits that the organization of the brain and mind reflect the organization of the world in which they evolved and developed. It is a perspective that has been influential in many fields including neuroscience, spatial cognition, and evolutionary psychology. Although primarily a visual researcher, Shepard's theories have also been influential in auditory perception and cognition.
In 1995 Shepard was awarded the National Medal of Science by President Clinton. In 2006 Shepard was awarded the David E. Rumelhart Prize for Contributions to the Theoretical Foundations of Human Cognition. In addition to psychology, his work has influenced a wide range of fields that include education, neuroscience, artificial intelligence, and human factors engineering.