Though vaccination-like procedures likely originated in ancient China hundreds of years prior to the life of Edward Jenner, our current vaccination production procedures are largely attributed to the investigations Mr. Jenner conducted in the late 1700s. The son of a prominent vicar, Jenner was educated in general academic disciplines, and then engaged in a series of apprenticeships with well-known surgeons of the time including Daniel Ludlow, and John Hunter. As a practicing family physician and surgeon, Jenner was aware of societal fear over the smallpox infections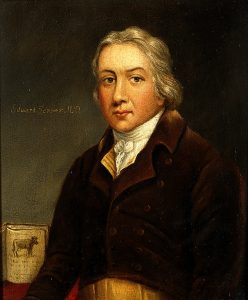 that plagued society at this time. Historical medical practice to avoid smallpox infection involved deliberate inoculation with material derived from smallpox lesions. Although this practice did create resistance to infection, recipients of the inoculation faced considerable risks, including a full-blown smallpox infection complete with the disfiguring lesions and unintentional transfer of the infection to family and friends living in close proximity. Based on extensive observation of smallpox infection patterns among the individuals in his medical practice and community, Jenner concluded that individuals infected with cowpox were protected from the related disease smallpox.
Smallpox and cowpox are related in both the pathological appearance of symptoms in infected individuals, and in the viral organism that causes the infection.  Although Jenner didn't have the experimental means to understand the molecular link between cowpox and smallpox, keen observation of milkmaids who were frequently infected with cowpox, suggested to Jenner that prior infection with cowpox could be protective against smallpox infection.  Using viral laden material scraped from cowpox lesions, Jenner vaccinated numerous individuals by introducing the inoculum into a wound on the upper arm.  He measured protection from smallpox infection by a subsequent infection with smallpox several weeks later.  Interestingly, vaccinated individuals showed none of the pathology traditionally associated with smallpox infection, confirming Jenner's initial hypothesis regarding the protective effect of prior smallpox infection.  Jenner's observations from his vaccination experiments were completed in the 1790's, and a series of papers documenting his observations and explanations were published by the Royal Society of England in the early 1800s.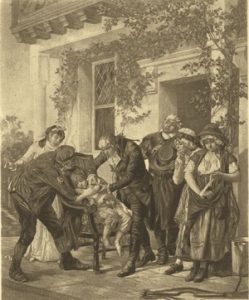 Of all the subjects followed over the course of Jenner's experimentation with inoculation of cowpox to prevent smallpox, perhaps none is more well-known than James Phipps, an eight-year old child who was the first recipient of Jenner's new vaccine protocol.  In this 1894 lithograph by Gaston Melingue, inspired by the story of Phipp's vaccination, the milkmaid from which the vaccinating material was taken is seen bandaging her hand, while Jenner simultaneously inoculates Phipps in the arm.  Per Jenner's experimental protocol, Phipps was subsequently infected with smallpox numerous times and showed no pathological indications of smallpox infection at any point following his vaccination.  Whether Phipps was a willing or coerced subject for Jenner's investigations is debated.  Though Phipps' father was Jenner's gardener and thus a poor laborer with little choice to determine when and how to follow his employer's orders, he was also likely to be a parent fearful about early childhood death due to smallpox infection and may have willingly sought unverified protection for his son.
Jenner's vaccination studies paved the way for the modern practice of using other less virulent organisms as vaccine material for related, but more damaging microbial infections.  Modern technological advances furthered Jenner's work by enabling scientists to make molecular changes in the genetic information of even the most virulent pathogens, rendering them harmless pathologically, yet maintaining their capability of inducing an immune response in the recipient.  While current experimental design and testing of vaccine candidates is a far cry from Jenner's method of preparing vaccine material and choosing scientific subjects, vaccine efficacy is evaluated using Jenner's method of vaccination followed by exposure to the microbial threat.  Though often mistakenly described as the "father of vaccination", Jenner's contribution to the public health benefits of vaccination cannot be underestimated.